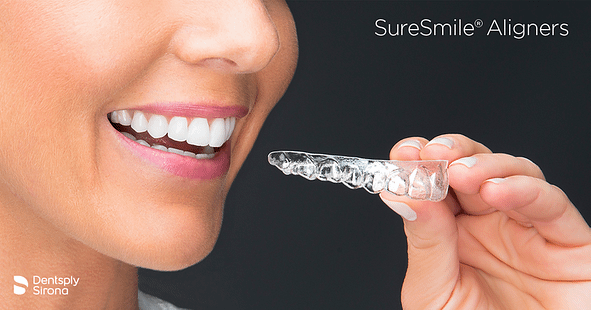 If you've learned that you need to correct your teeth's alignment, there are a few different approaches that you, Dr. Patel or Dr. Benavides can take — traditional braces or clear aligners like Invisalign or SureSmile.
Each option has its pros and cons. Here, you'll learn some of the differences between metal braces and Invisalign or SureSmile aligners.
Braces vs. Invisalign in Calgary – The Processes
The processes of getting Invisalign or SureSmile and traditional braces tend to start off similarly but tend to veer off into very different directions. Here's what you typically can expect:
Traditional Braces
An orthodontist will take impressions of your teeth to create models out of plaster. The models will help her determine how much adjusting your teeth need.
Next, metal or ceramic brackets will be put on your teeth with dental cement. A long wire will be placed along your top and bottom arches, resting within the brackets. The wire moves your teeth into an optimal position over time. Dental bands will hold the wire in place.
Every four to six weeks, you'll visit your orthodontist for an adjustment. At this appointment, worn brackets and possibly the wire will be replaced.
Timeline: Generally one to over three years.
Invisalign Aligners
As with traditional braces, dentists at our Calgary SE dental office will take digital impressions of your teeth, and the digital models will be used to fabricate your clear aligners.
At your first appointment, Dr. Patel or Dr. Benavides will provide you with a complimentary screening using the iTero or Primescan system. These systems create a computer-generated model of your teeth to compare what they currently look like to what the anticipated results once you've completed your Calgary Invisalign treatment plan.
Approximately every two weeks, you will get a new set of aligners. They may feel somewhat tight, which can be normal. This is because they typically assert a gentle force to progressively move your teeth into their new position.
Timeline: Usually about 12 – 24 months.
Dr. Patel or Dr. Benavides will be able to provide you with a more detailed and personalized timeline and progress plan regarding your orthodontic treatment in Calgary.
What It's Like to Live with Traditional Braces and Clear Aligners
If you've seen commercials for Invisalign in Calgary, you might think that life with clear aligners is a piece of cake compared to traditional braces. Is that the whole story though?
Invisalign in Calgary – What It's Like
You can take the aligners out to eat and brush/floss your teeth – an exciting prospect if you're like Dr. Patel and Dr. Benavides who love spending time in the great outdoors. It can be nice to not worry about floss threaders on a camping trip!
A downside of these aligners is that it can be easy to forget to put them back in once you've removed them. In general, it is recommended to wear the aligners 20-22 hours each day. Wearing them less than that can slow the treatment process and may even extend it.
It can also be easy to lose the aligners — especially if you take them out to eat, wrap them in a napkin for hygienic purposes and accidentally toss them out. Ask Dr. Patel or Dr. Benavides for tips and tricks that can help maintain the effectiveness of Invisalign and potentially prevent loss.
How are Traditional Braces Different?
Adjusting to life with metal braces can take a while. At first, the brackets may make the inside of your cheeks a bit sore.
Dental homecare can take a long time as well since you have to brush around each bracket and use a floss threader. It is highly recommended to practice thorough homecare on your braces, as slacking off can result in dental decay around the brackets and between the teeth.
Before Invisalign was introduced to Calgary, many people who sought orthodontic treatment were likely to be fitted with metal braces for teeth alignment issues. They take some getting used to, but metal braces are effective. And in some cases, they may be the preferred option for complex orthodontic cases. Dr. Patel and Dr. Benavides are ready and willing to help facilitate your understanding of which option suits your specific needs.
Are You a Good Candidate for Invisalign Aligners?
Invisalign in Calgary is can be a great option for a lot of people to pursue depending on your needs. However, traditional braces still have their place and purpose as well.
Speak with your Seton dentists, Dr. Patel or Dr. Benavides, to learn more about the pros and cons of each treatment option – and whether you're a good candidate for Invisalign or if braces may be a better choice for you.
Interested in Invisalign? Contact us today to find out if you're the right candidate for this type of orthodontic treatment.