Introduced in the 90s, Invisalign® braces quickly became the dental aligners of choice by both patients and their dentists.
However, I do find that a lot of patients still have quite a few questions about this product, despite it being so well-known.
Patients aren't quite sure how the aligners work, or what the pros and cons are for this type of orthodontic treatment. And I often get asked whether Invisalign® will work faster than braces.
One of the most predominant questions I get is: If Invisalign® is so great, why do some dentists still use traditional metal braces?
These are valid questions. So, what I'd like to do is give you a brief Invisalign® tutorial. I'll explain how these clear aligners work and how they differ from metal braces.
I'll also answer the burning questions: If Invisalign work faster than braces, why would a Calgary dentist use anything else?

How Invisalign® aligners differ from traditional braces
The main difference between Invisalign® aligners and traditional braces is fairly obvious. Invisalign® are BPA-free plastic aligners, while braces consist of metal brackets and wires.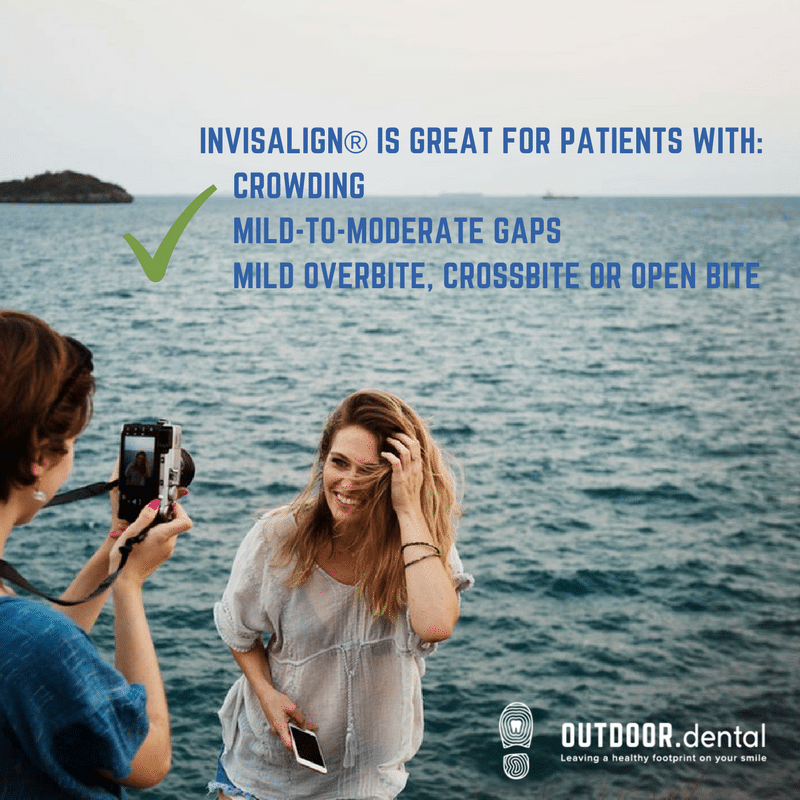 With traditional braces, a dentist would bond the metal brackets to the patient's teeth. These are then linked together by the wires and held in place with a metal clip. It's important to note that not all "traditional" braces are metal. There are now clear-colored brackets that are more aesthetic.
Yet, the majority of patients would prefer something that seems to disappear completely. Patients wear the plastic Invisalign® aligners over their teeth. They can remove the aligners to brush, floss, eat, and have their teeth examined by a Calgary dentist.
Every 6-8 weeks, a dentist or orthodontist adjusts the metal brackets. They place new wires so that the teeth will continue to adjust. Similarly, every few weeks, Invisalign® patient will switch over to a new aligner or tray. The new trays are very snug so that the teeth can shift into proper alignment.
The awesome thing about Invisalign®, is that you can see an actual before and after of your teeth at your initial consultation. To do this, we use a digital impression scanner called iTero.
Patients who chose traditional braces will wear them for approximately 12 to 18 months, depending on the complexity of the their teeth. Invisalign® patients will wear their aligners for 6 to 18 months, on average – again depending on the complexity of each person's teeth and the treatment goals.
Once out of ortho, both patients will need to wear retainers at night on an ongoing basis to maintain the final tooth position.
Does Invisalign work faster than braces? If so, why are traditional braces still used?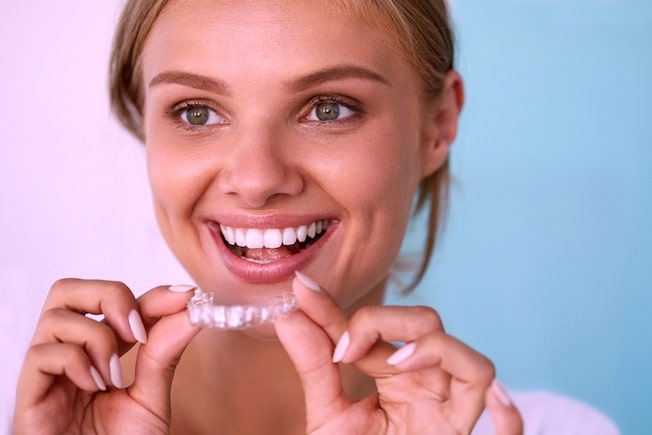 Invisalign® patients can usually finish their orthodontic treatment sooner than patients with metal braces, however compliance in wearing the aligners is key the key to success.
If I Invisalign work faster than braces, why do some dentists still go the traditional route?
The simple answer is that clear aligners don't work for everyone.
To benefit from Invisalign® in Calgary, patients need to wear their aligners at least 22 hours each day. Sometimes, it's easy to forget to put the aligners back in after you've taken them out. If you have strong self-discipline, you may be a good candidate for this type of treatment.
Another reason dentists don't use clear aligners is if a patient's case is too complex. Invisalign® is great for patients with:
Crowding
Mild-to-moderate gaps
A mild overbite, crossbite, or open bite.
However, Invisalign® isn't typically successful on patients who need:
Vertical movement
Rotation of certain teeth
Tipped tooth correction
Large gaps
Severe alignment issues like a severe overbite or underbite.
Invisalign® Braces – Giving you optimal function in addition to a beautiful smile
One of the main reasons patients invest in orthodontic treatment is to get a beautiful smile. They want their crooked, crowded teeth straightened. And it isn't uncommon for patients to try other aesthetic procedures once they're out of orthodontics. These treatments range from bleaching and bonding to veneers and implants.
By getting your Invisalign® in Calgary – this will go a long way beyond just getting a beautiful smile.
As a Calgary dentist, I definitely want to help my patients achieve a great smile. However, I also want to give them a bite that functions well.
Invisalign™ can effectively correct bite issues, straighten teeth, and close gaps…all while being barely visible. Correcting your bite can improve your dental health as well as your overall health with an added bonus of boosting your self-confidence and giving you a terrific looking smile! Having straighter teeth, you'll be less prone to wear due to clenching and grinding. And it's easier to brush and floss, which can reduce the likelihood of gum disease and decay.
If you have a smile you aren't happy with, I highly recommend that you consider orthodontic treatment. Invisalign® aligners could be your missing piece to achieving better oral health.

Are you interested in getting Invisalign® braces but still have questions? Contact my office to schedule a complimentary consultation. We'll address all your orthodontic questions and concerns.